My Works
MY SHORT STORIES
Below you will find mystery magazines, a short story collection and anthologies in which my works have appeared. Some of the stories are about crime and mystery, others are about adventures of my furry companions, other family and friends. The titles are listed below the name of publication. All of my works are available in print (book form) and digital.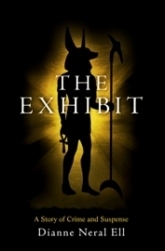 THE EXHIBIT (A novel)
Category: crime/suspense


For most New Yorkers, April 5th was an unremarkable day. But for Claudia, Peter, Sharon and Charles, it was that quintessential moment when lives changed. When a 'what if' game to steal from the Golden Age of Egypt exhibit became real. When they walked out of the Metropolitan Art Museum with five gold artifacts having committed the perfect crime. When they were unaware that greed and a simple mistake could lead to murder.


_____________________________________________________________

SHERLOCK HOLMES MYSTERY MAGAZINE #27 (due late 2018)
category: mystery/suspense

Title: Such Good Friends
The mysterious death of her oldest friend, a world-famous artist, takes investigative journalist Devon January into the Florida Keys where she'll find that illusion is the greatest danger of all.